Programs
Pilot Preparedness
Duty Pilot
Our experienced flight instructors at Helicopters Canada work together with students to assure they are well educated on not only how to fly, but what they are flying. Whether it's adding daily inspections, passenger briefings, start up, procedures review or getting the latest weather update. All aspects of being a professional pilot are covered throughout the course.
When our flight instructors are not in the air teaching lessons, they are spending their time on the ground doing pre-flight and post-flight briefings so students can confidently understand the flight exercises they put into practice while flying.
Proper ground handling and hangar procedures are skills passed down to students from our flight instructors after years of experience in the aviation industry. Being able to safely move and operate around expensive and delicate aircraft is a valued skill and necessary for newly licensed pilots looking for their first job.
Being a Duty Pilot teaches students the basics of flight following, flight dispatch and aircraft airworthiness. Our students can take what they have learned through our system and apply it to the latest technology being utilized at any company they work for after graduating. All students are required to get involved with fueling operations of their own and other aircraft to familiarize themselves with both Av Gas (100LL) and Jet Fuel (Jet-A) procedures – another skill that makes them invaluable in the workforce.
DURATION: COURSE ENTIRETY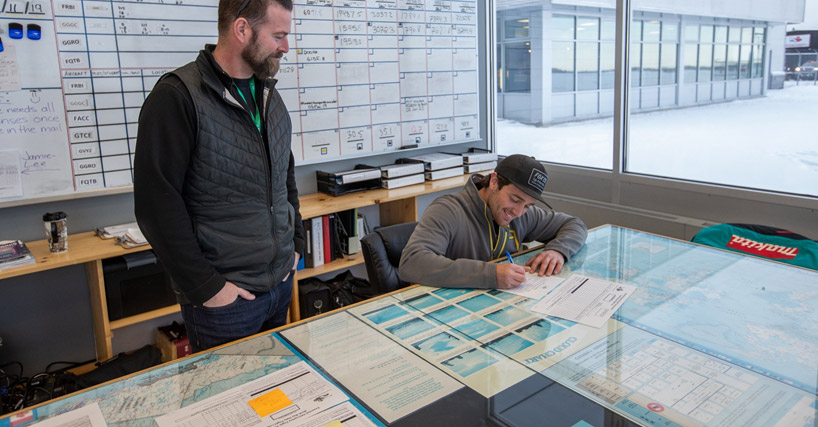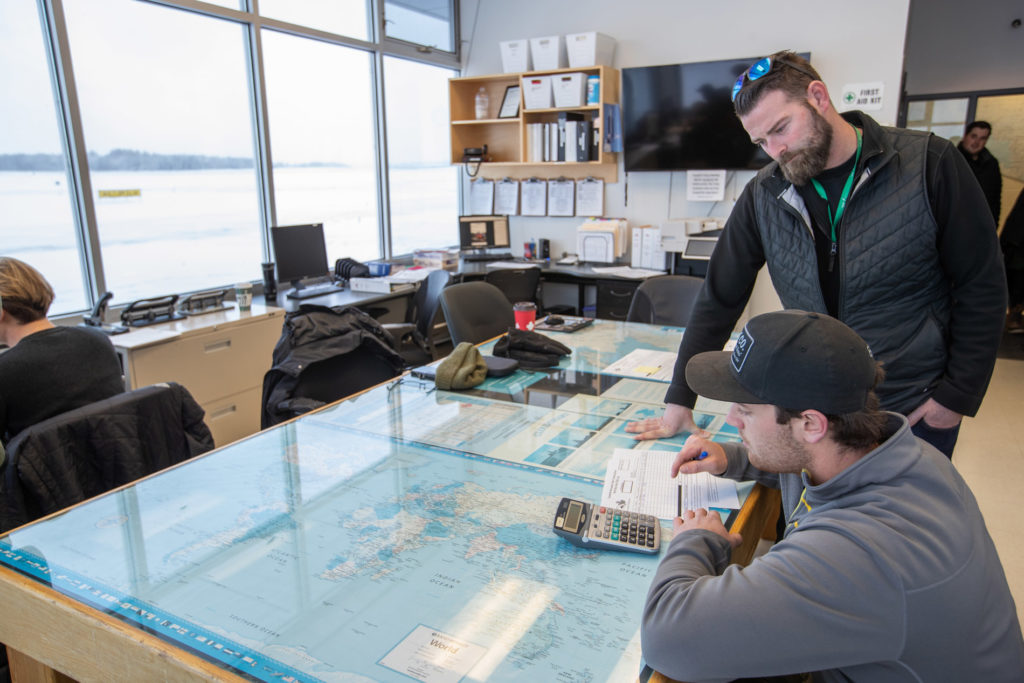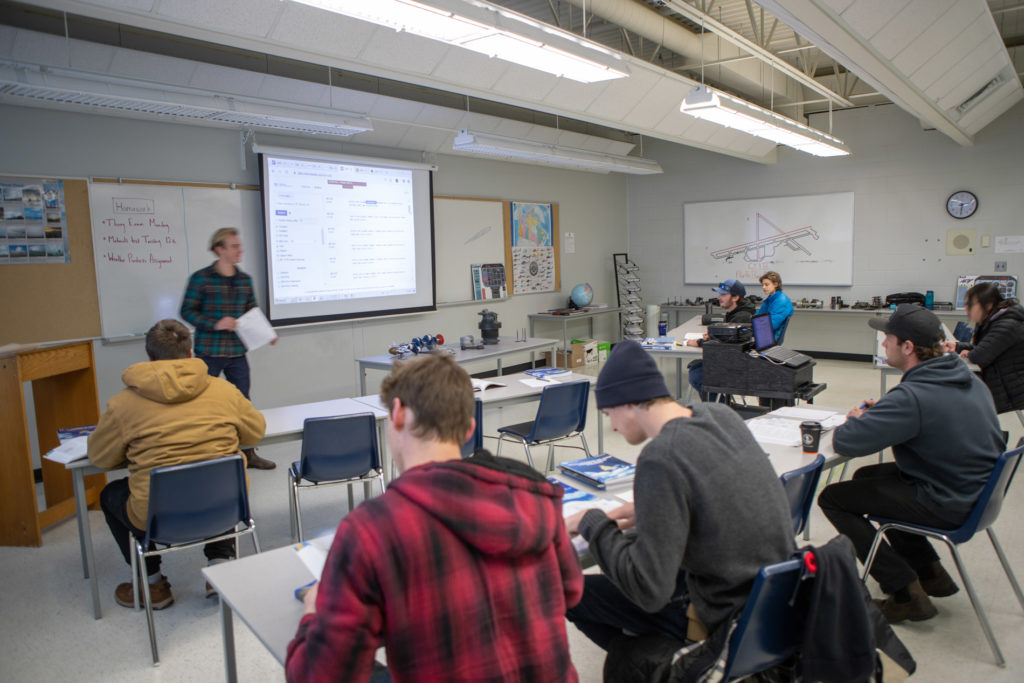 Pilot Aircraft Maintenance
Offered by Canadore College Professors with their Aircraft Maintenance Engineer certification. The basic aircraft maintenance course takes years of experience from AME professors and incorporates the content most applicable to the pilot's relationship with their aircraft and maintenance team.
Students learn about recognizing trends of their aircraft's structure, engine and performance and apply their knowledge to make informed "go or not go" decisions. Basic maintenance techniques such as dual control installation and removal, door configuration, changing navigation lights, etc. are demonstrated to make pilots more competent without relying on engineers while out on secluded flying jobs.
Over the two-semester course, visual and classroom lessons are reinforced using experimental demonstrations, tangible learning aids and "cut-aways" that are donated to the college from retired aircraft.
Topics covered further within the course include:
Piston Engine Familiarization, Turbine Engine Familiarization, Proper Cleaning Techniques, Airframe Structures, Materials, Corrosion, Fuel Handling, Human Factors… and more!
DURATION: 2 SEMESTERS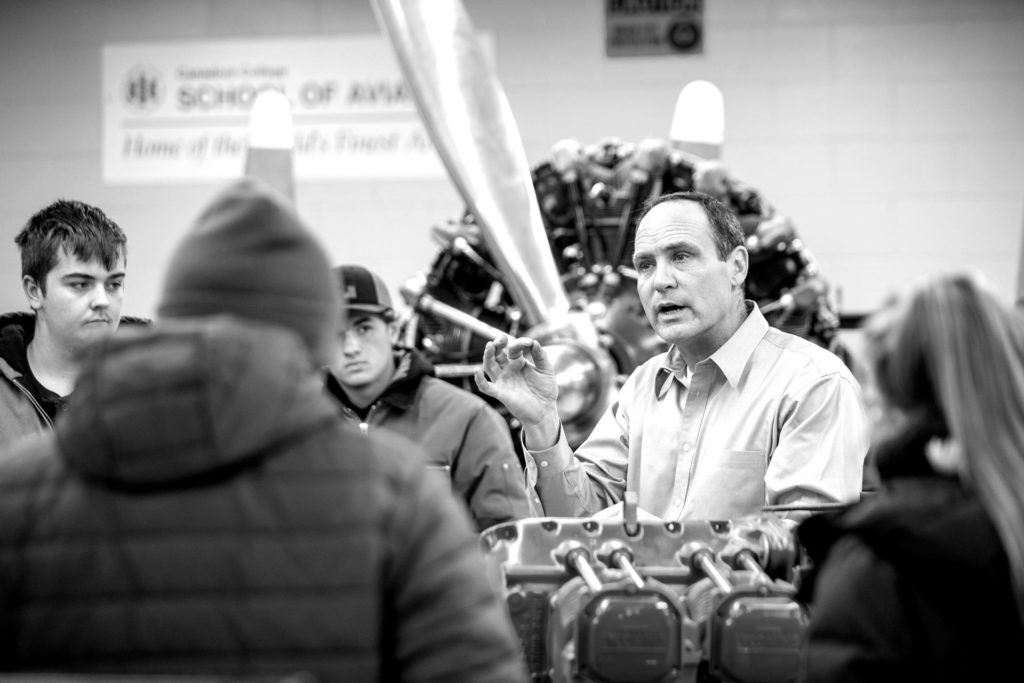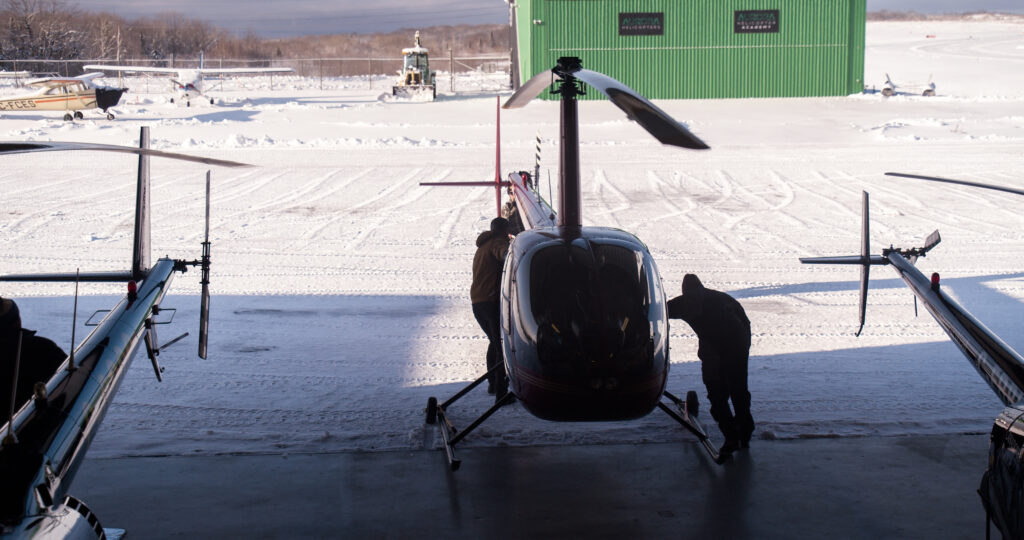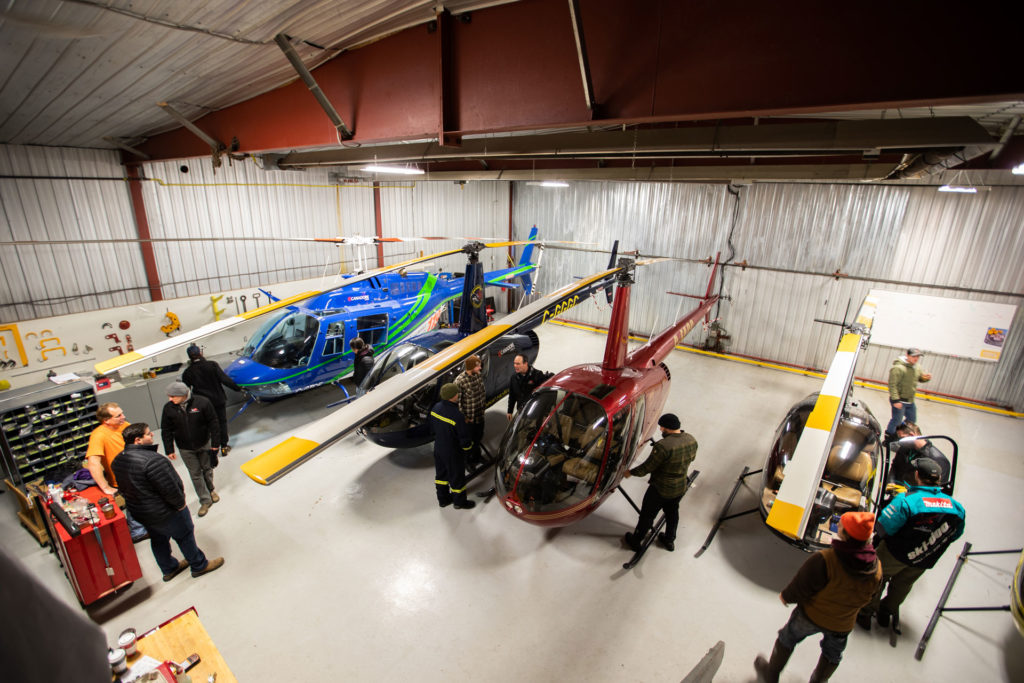 Basic Math and English
The goal of Helicopters Canada's commercial flight training program is to take any student with no aviation experience and make them a pilot who meets the Transport Canada standards for licencing. Because of this lenient admission requirement, we happily welcome students from various educational backgrounds. Basic Math and English courses are incorporated into the Pilot Preparedness Program so each of our graduated pilots have the basic skills to take on many roles in any aviation workplace.
Basic Math teaches number fundamentals, structure of equations and solving problems without the use of a calculator. These lessons help students to practice mental math skills which sharpens their ground speed checks, fuel burns and other calculations they exercise while flying.
In Basic English, students focus on stories, statistics and history of the aviation community to report and reflect their own experiences in flight training. Presentation skills are also practiced to develop strong communication habits that are vital when working with aircraft and aviation personnel in the air and on the ground.
Both of the Basic Math and English Courses are designed with pilots in mind; experienced Canadore College Professors merge their most effective lessons with the demands of a helicopter pilot's lifestyle. All of the material is presented in a way that can be relatable to a pilot and utilized during any job in the industry.
DURATION: 1 SEMESTER EACH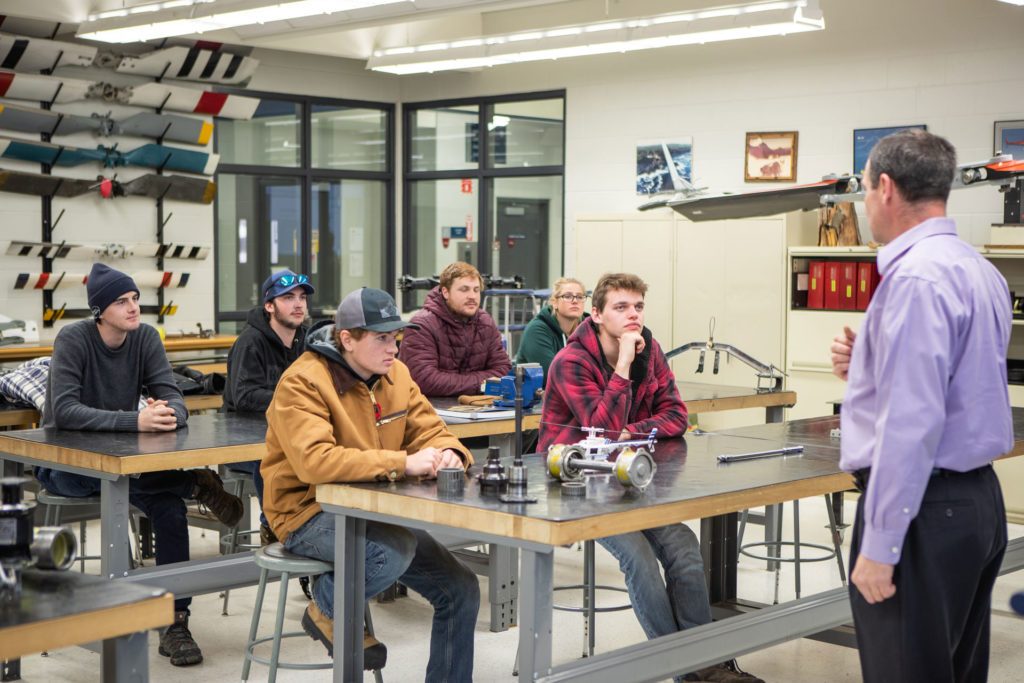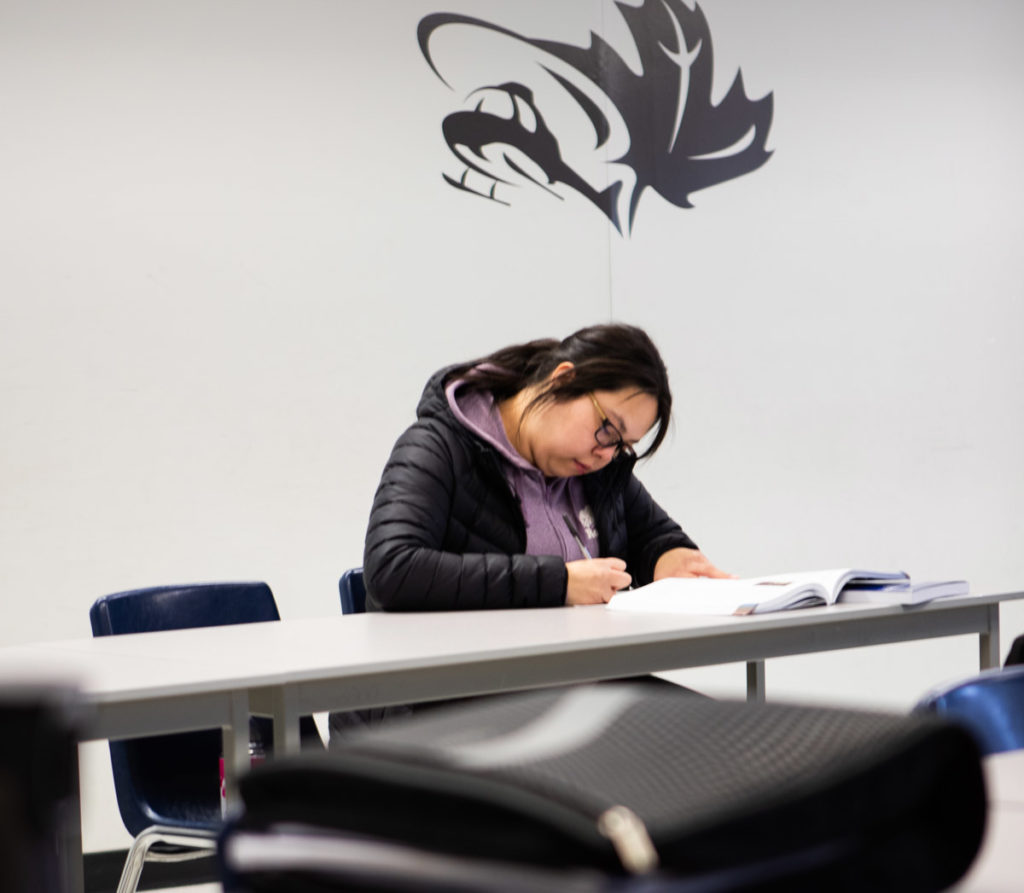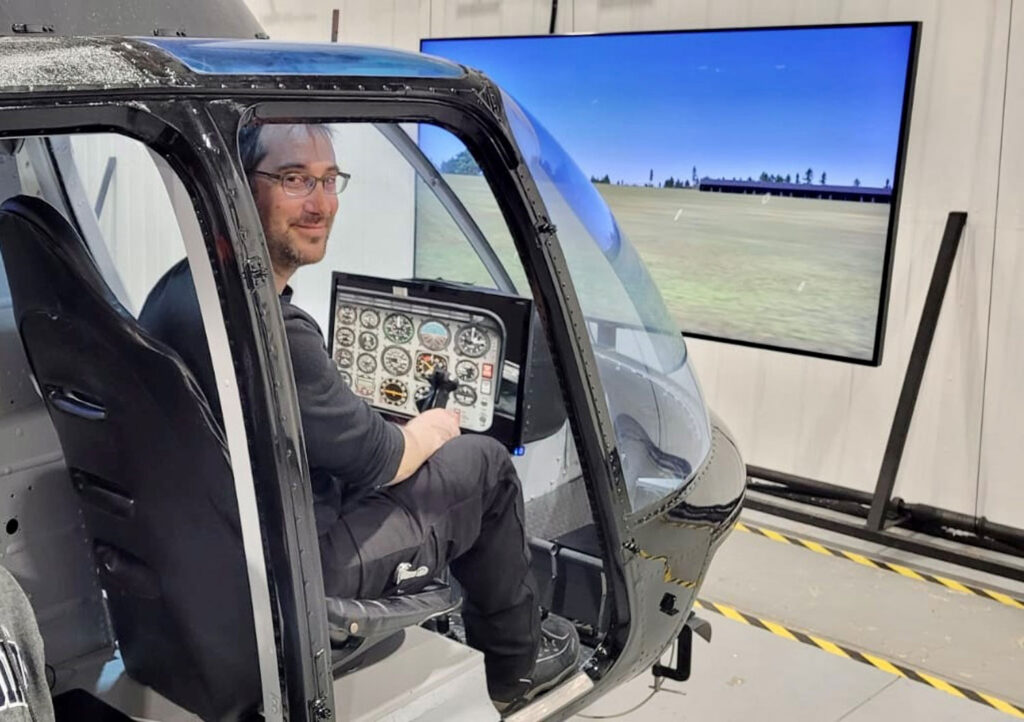 first aid, cpr and AED training
Standard First Aid is a practice that pilots should not take for granted when operating in remote areas with risk of injury. Our two-day First Aid Course is unlike any basic course offered; students are given scenarios to put their classroom lessons and decision-making skills into practice while developing hands-on solutions.
Day One: Our certified instructor teaches the theory and procedures involved in treating all types of first aid situations. PowerPoints and demonstration videos are discussed as students read along with the workbook that includes guidance and references for emergencies that they can keep with them in their aircraft.
Day Two: All the teachings from the previous day are practiced first-hand. CPR and AED techniques are utilized on dummies, and first aid crises are demonstrated on our staff and student "dummies." Students are divided into groups and are given surprise scenarios they must react to in real time to make life-saving decisions using their new first aid training.
Not only are the certified instructors an experienced in teaching this course to pilots, but they are also past paramedics that have responded to scenarios that involve helicopter patient transport. These aspects of real-life storytelling and convincing scenarios grasp the attention of our students and make them react as realistically as possible when dealing with a first aid emergency. That is what makes this a First Aid Course unlike any other.
Duration: 2 days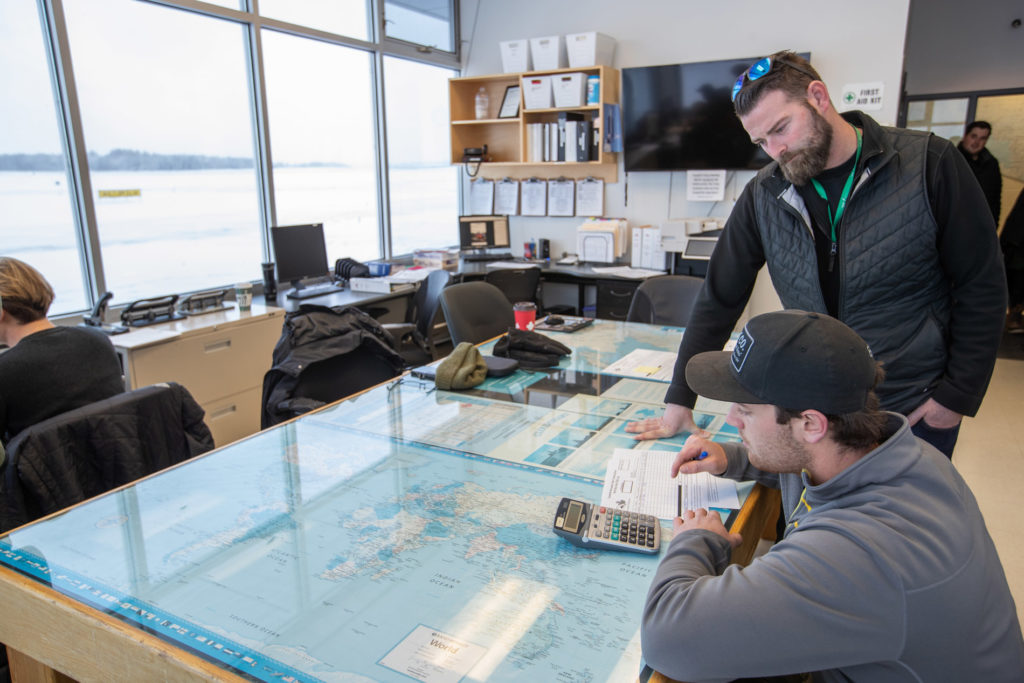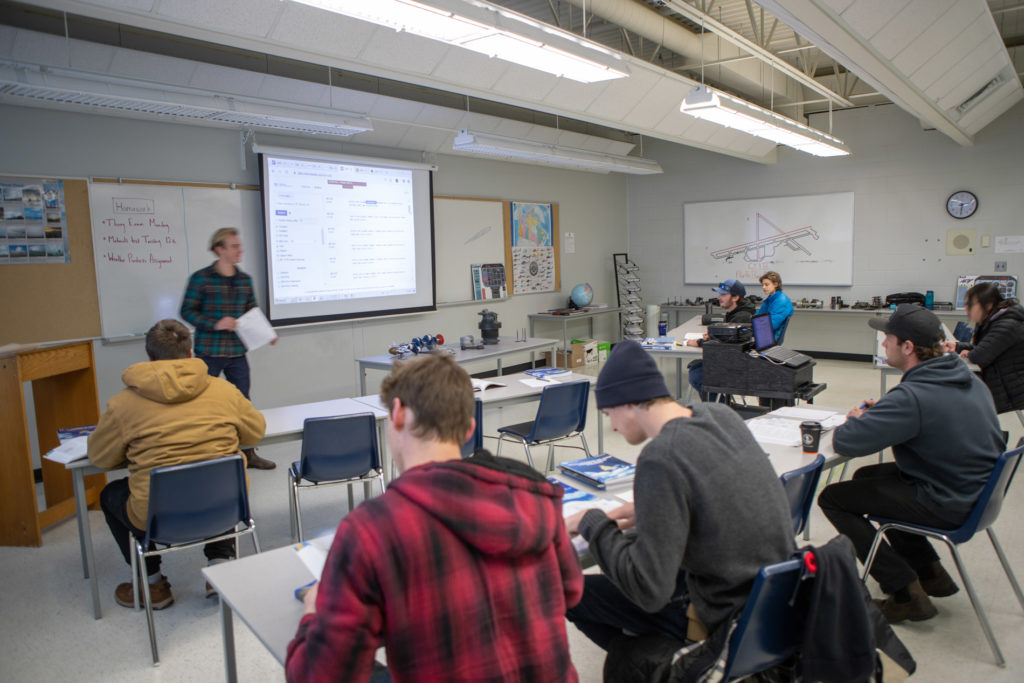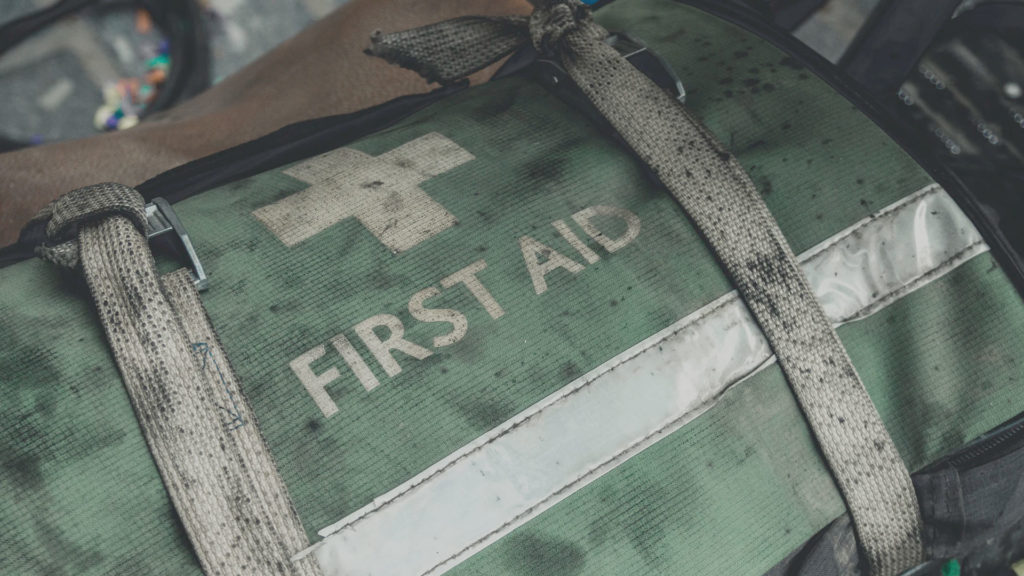 Chainsaw and tree felling
The majority of helicopter operations take place in heavily forested areas where the felling of trees is often required. Therefore, it is often helpful if the pilots are familiar in chainsaws and their operations. That is why we have made this Chainsaw Safety and Tree Felling Course part of our Pilot Preparedness Program.
The first day of this two-day course begins in a classroom setting where our experienced instructors review the storage, upkeep, mechanics and safety practices of chainsaws. Students are also familiarized with how to identify tree types and their best usage, properly fell, prune and buck the wood yielded from their cut.
Day two takes place outdoors where students practice the lessons they learned in class. Divided into groups, the students are assigned an instructor who walks them into the bush and are given the opportunity to identify, select, fell, trim and buck their own trees. Then when it comes time, students must utilize the necessary tools to sharpen, file, clean, oil and refuel their chainsaws to keep them serviceable.
This course most accurately represents real experiences helicopter pilots face when working in remote forested areas. These skills help our graduates meet the demands when expected to create helicopter log pads, survival shelters, firewood and so much more.
Duration: 2 days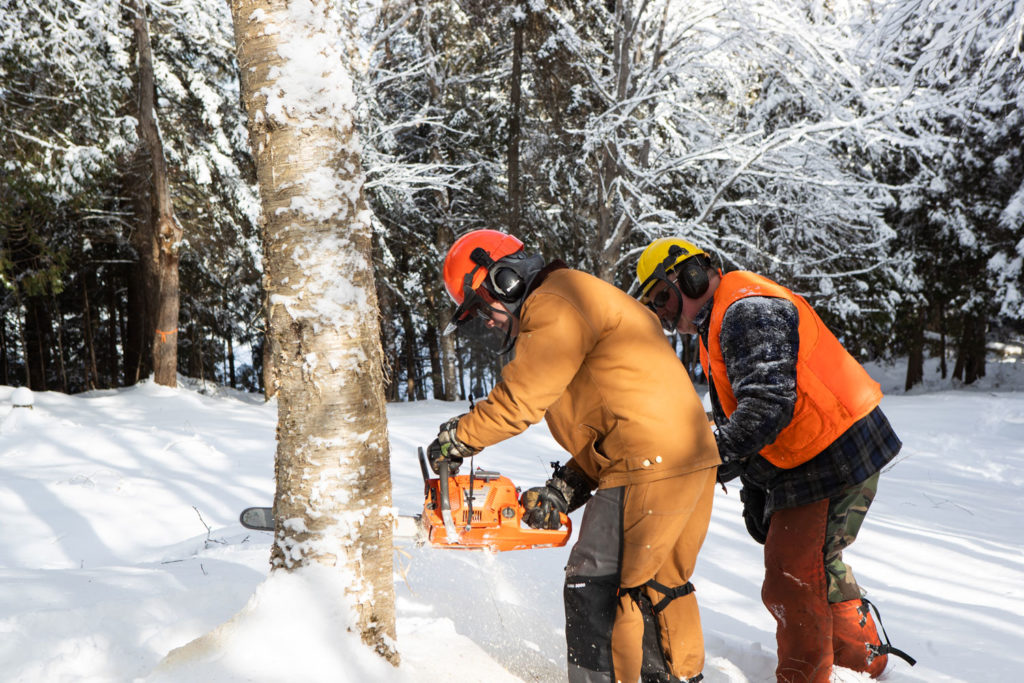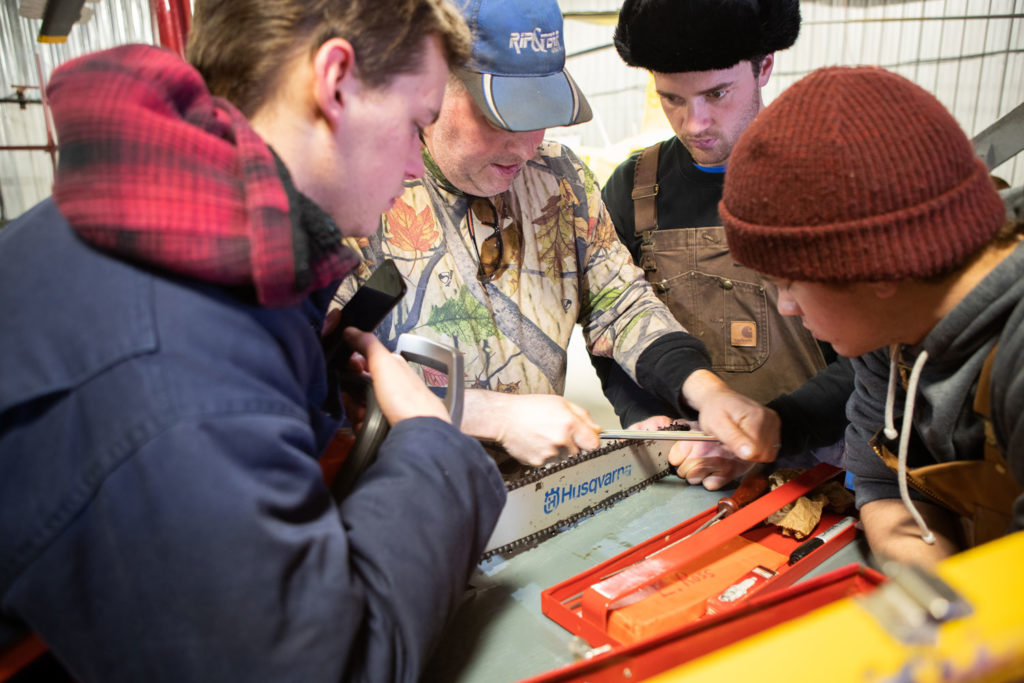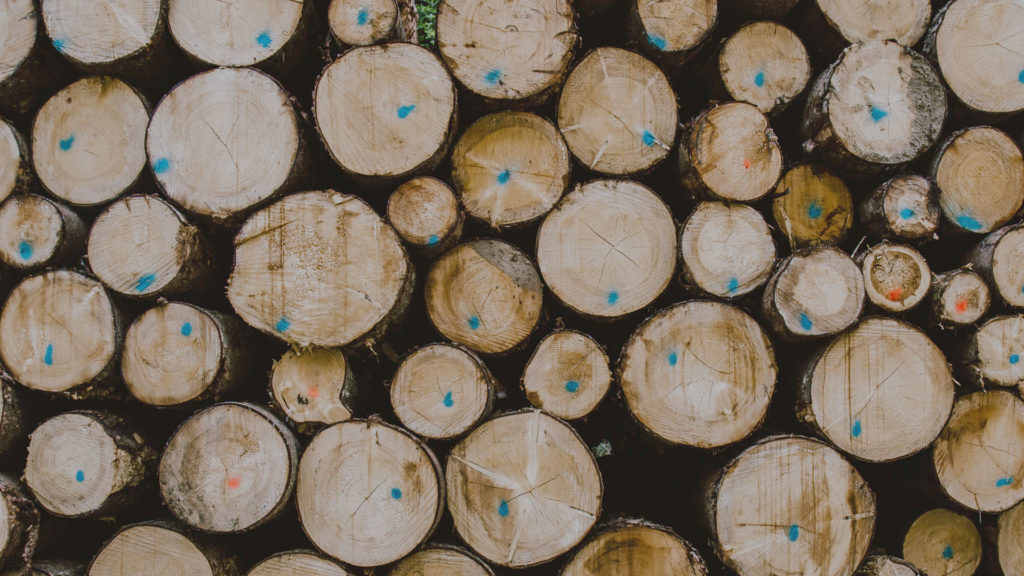 Log Pad Construction
The perfect opportunity for helicopter students to marry their chainsaw safety and winter survival training; our Helicopter Log Pad Construction Course is the best way to test the future pilots on their ability to retain knowledge and act quickly under high demand.
At some point throughout their winter survival experience, one of our helicopters pays a visit to the secluded area on short notice and needs a place to land to keep them out of the snow. It is at this point our group of students must work as a team to assemble a safe log pad in a suitably determined landing site.
By selecting sturdy lumber trees, making clean cuts, thoroughly pruning, and bucking into appropriate sizes, this is the perfect culmination of the students' chainsaw training while dealing with the winter environment under high pressure.
All done under the supervision of experienced instructors with the familiar chainsaw equipment and safety gear, the students are not given the chance to lose any of their past training by applying it to a real life scenario with a real life reward. This may be the first time a student builds a helicopter log pad, but after getting a job in the aviation industry it most likely will not be their last!
Duration: 1 day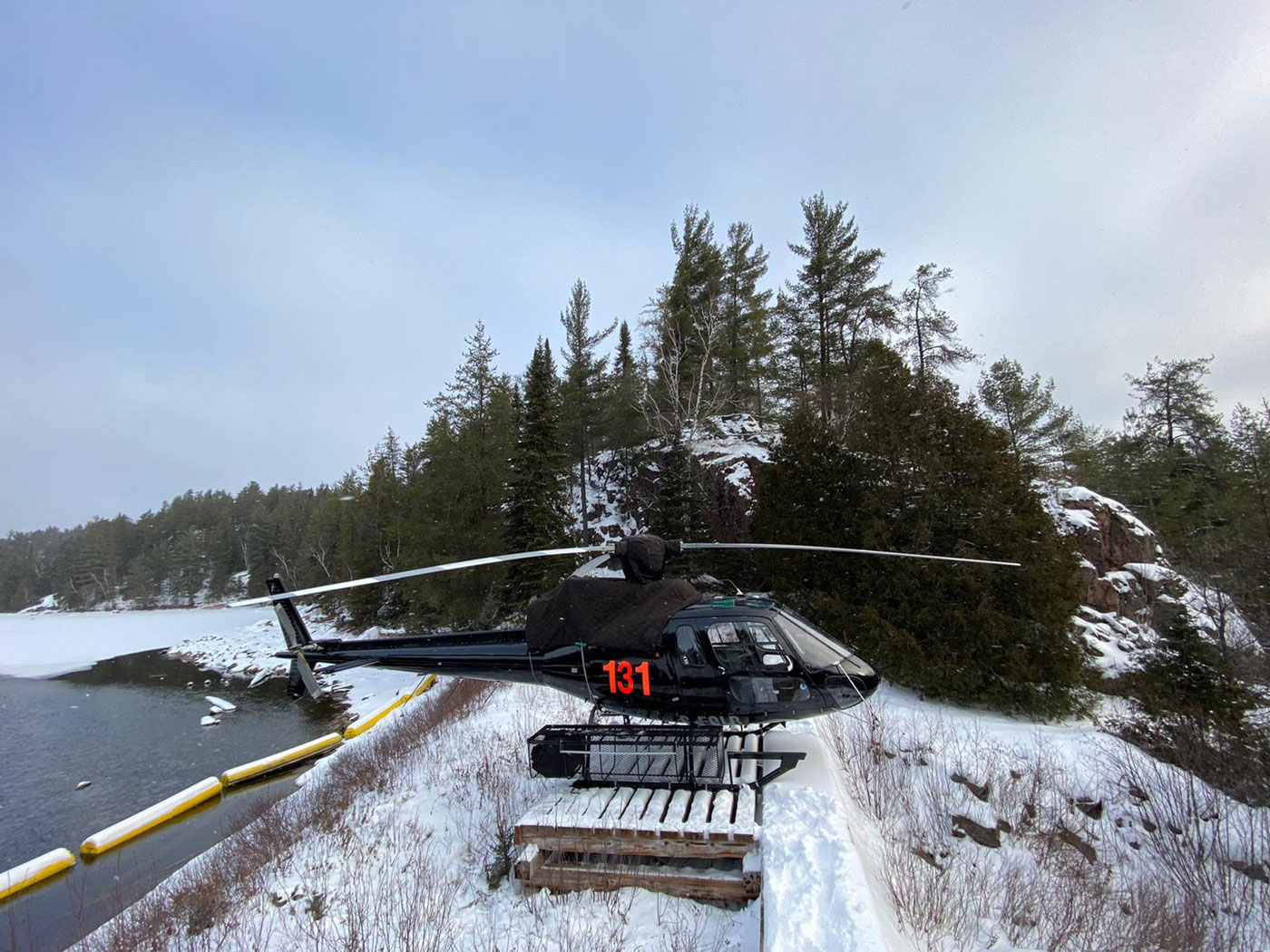 Winter Survival
Helicopters Canada's Winter Survival course is designed for students or employees who must face these conditions as part of their everyday job duties. Our week-long training session includes one day of classroom instruction in class and four days out in the wilderness with hands-on practical training. Students will learn essential safety skills such as the recognition, prevention and treatment of frostbite, hypothermia, and other cold weather injuries as well as the skills necessary to quickly locate or improvise effective shelters to survive an unexpected situation.
Our extensive ground school includes the following:
Shelter Building Methods
Fire Lighting and Signal Techniques
Search and Rescue
Map and Compass Navigation
Trapping and Snaring Techniques
Survival Kit Contents
Proper Water Treatment
Team Building and Leadership
The skills and knowledge gained during this course will help prepare you with the understanding and confidence of the will to survive an outdoor emergency. If you find yourself in a survival situation, you'll be grateful you know what to do.
Duration: 4 days / 3 nights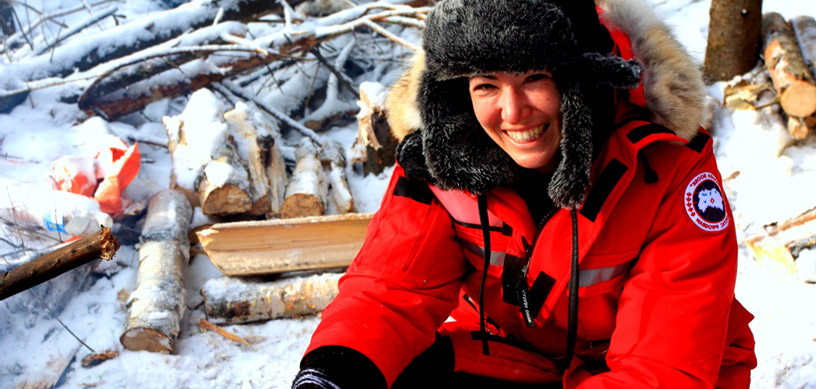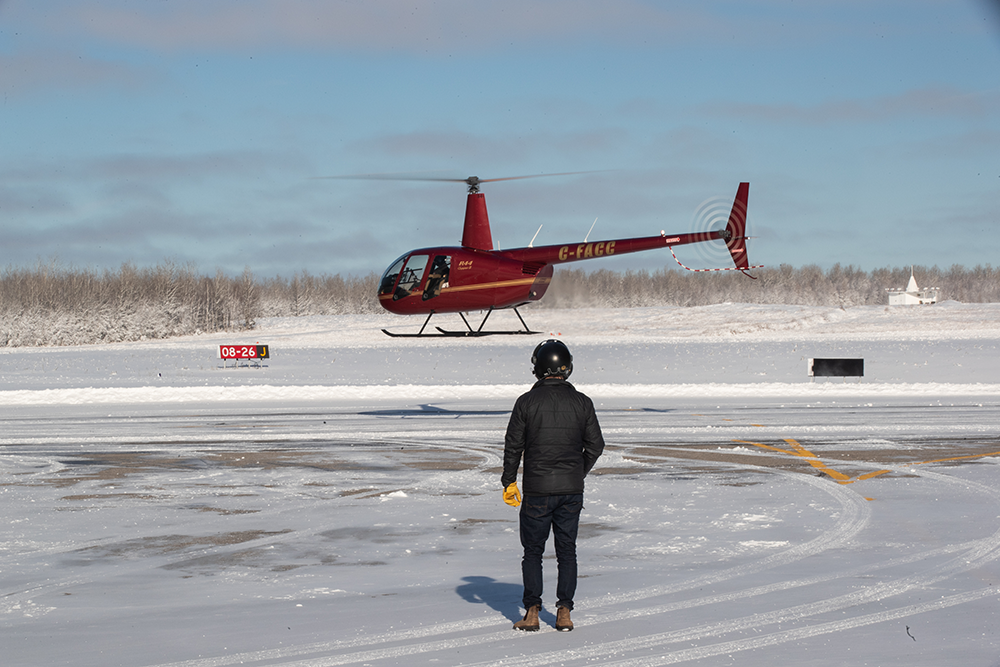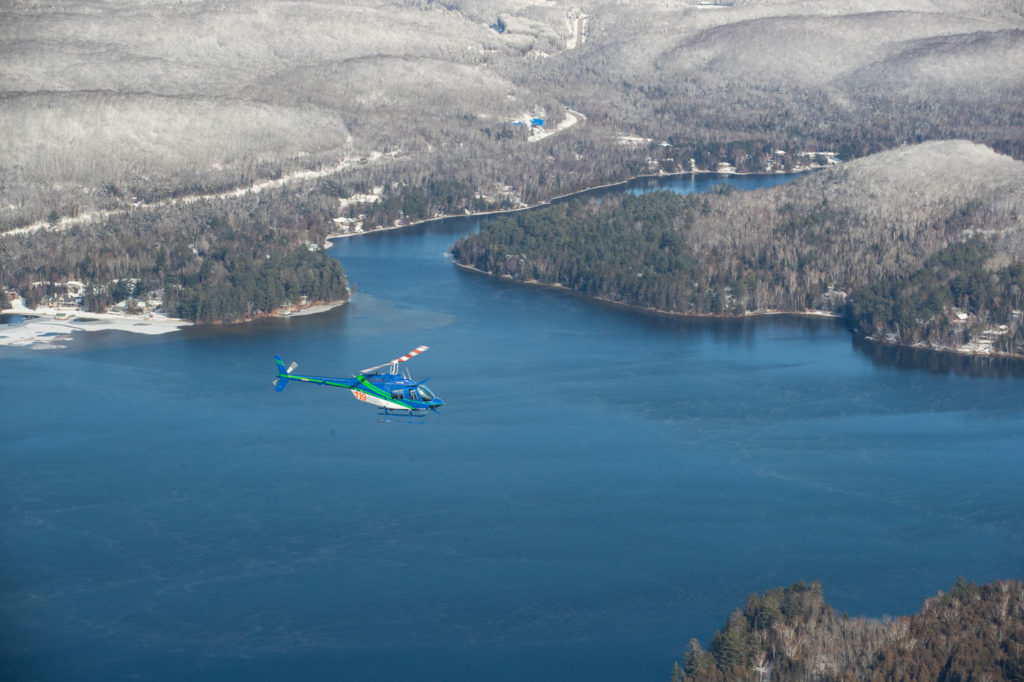 Winter operations
The Winter Operations Training is the perfect culmination of the helicopter ground-handling techniques learned around the apron at an airport, along with the newly developed knowledge of Winter Survival Training.
It is not uncommon for Helicopter Fixed Base Operations to be located in the colder climates of the Northern Hemisphere, and these locations are most likely in remote locations as well. With these characteristics, there are additional needs for the aircraft and the personnel who fix and fly them in order to operate on a daily basis. Our goal is to create graduates who can take on a role as one of these individuals to help things run smoothly when flying out of Northern remote areas. We can achieve this by delivering to them these exact techniques for the entire winter season of the student's program.
Skills taught by instructors on a daily basis include:
Leadership Encouragement
Daily Monitoring Shifts
Fueling Procedures from Bowsers and Drums
Familiarization with Buddy and Portable Heaters, Battery Blankets, Winter Aircraft Covers, Etc
Remote Training Bases
Daily Confined Area Practice
New Navigation Practices
Landing and Take-Off from Self-Built Helicopter Log Pads
Duration: Winter Season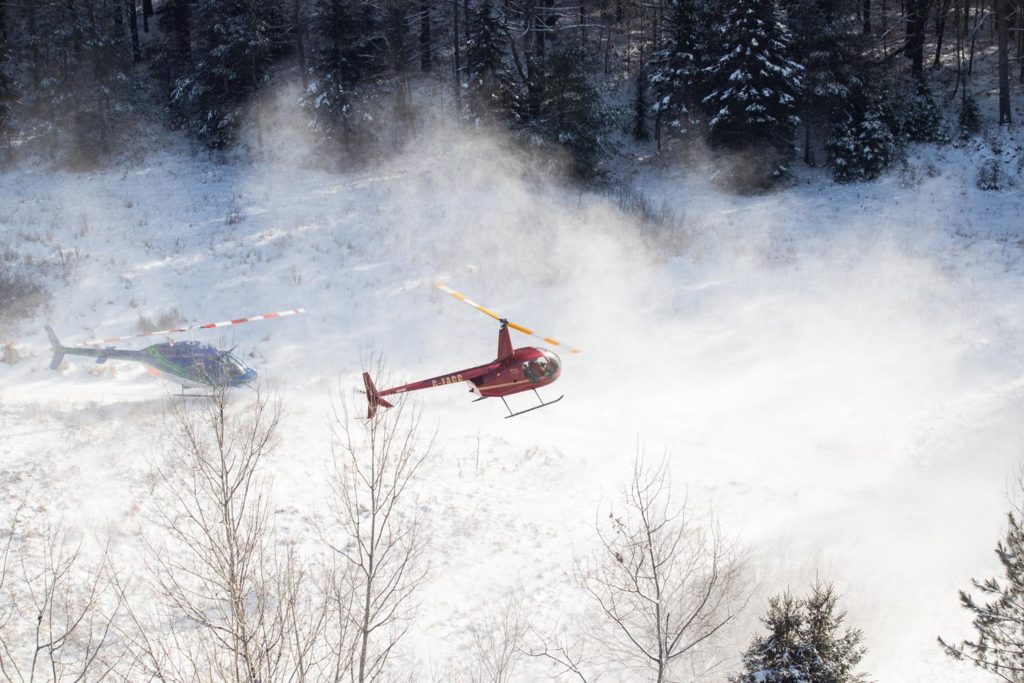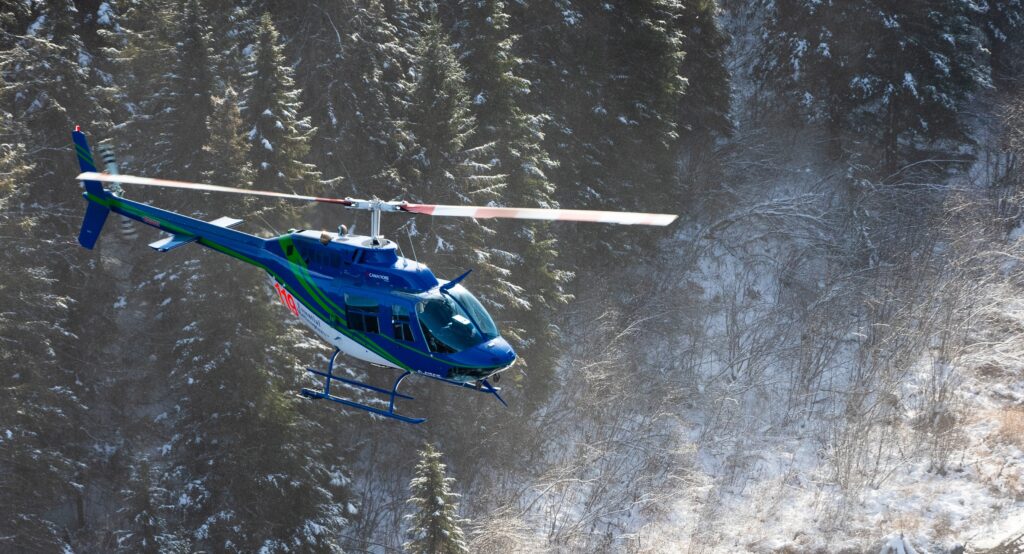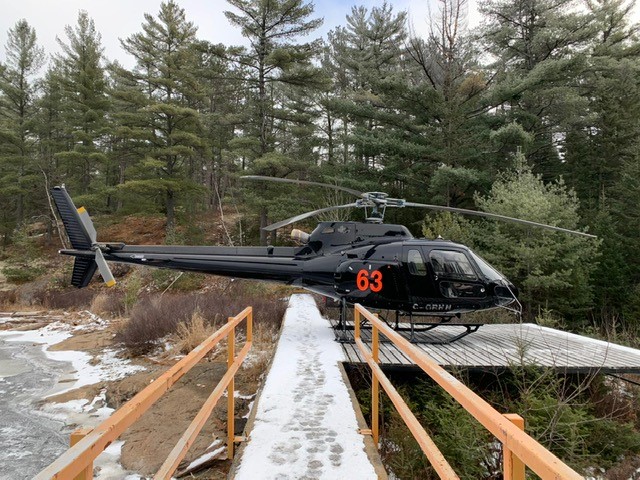 Underwater Egress
Helicopters Canada's Underwater Egress Program is designed to provide aircraft crew and passengers travelling over water, the knowledge and skills necessary to react to an aircraft ditching emergency. The course has been designed for workers traveling via aircraft on a regular basis, to provide vital safety information, procedures and potentially life-saving knowledge. Regrettably, many passengers do not survive during a ditching emergency because of a lack of knowledge and practice of emergency scenarios.
The Underwater Egress Training Program is given in two parts: Theory in a classroom and practice in a pool with a submersible aircraft simulator and sea survival equipment.
Our program content includes the following:
Surface and Underwater Egress Training
Emergency Ditching and Evacuation
Pre-Ditching Procedures
Cold Water Immersion
Hazards Operating Over Water
Survival Equipment Utilization
Water Rescue Techniques
Life Raft Operation
Duration: 2 days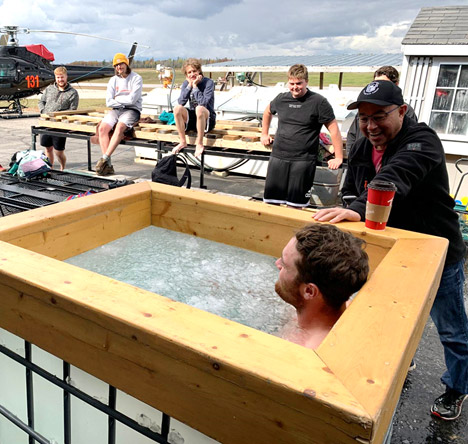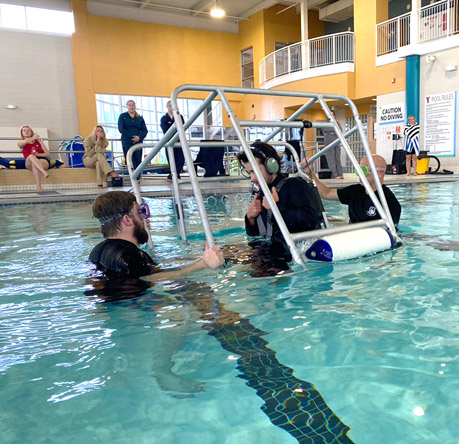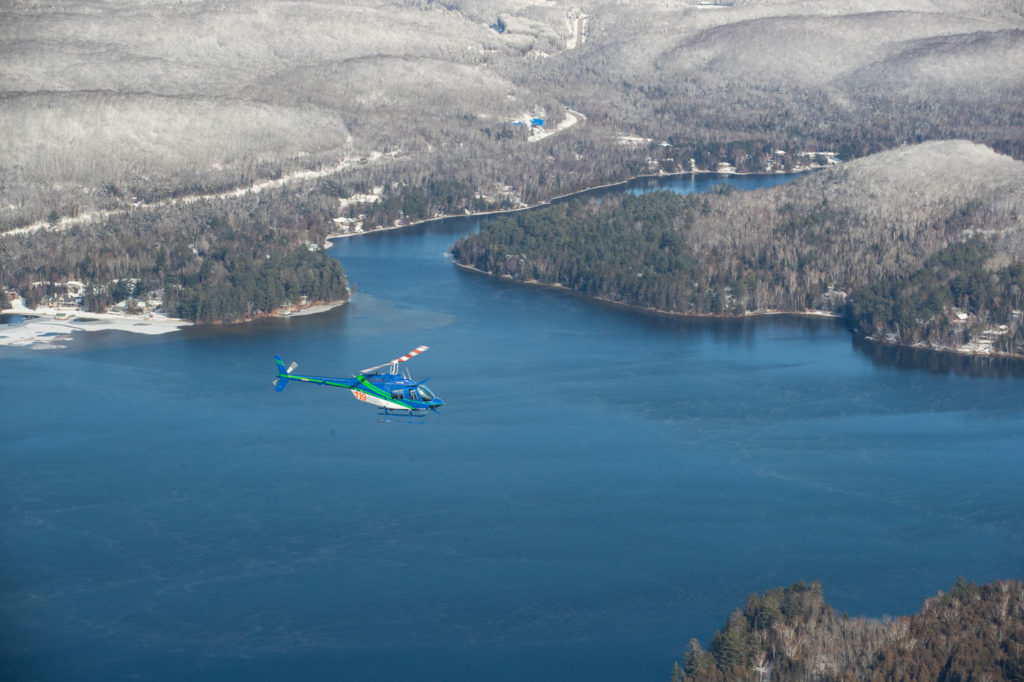 GPS Systems
Developed by a Canadore College Avionics Professor, the Global Positioning System Course is to allow our students to familiarize themselves with the many different types of GPS' used in the industry today. The basic principals and functions are discussed and demonstrated in a classroom environment to give students the basics that can be applied to any device they find in their career.
The course begins with an introduction to GPS and the history behind how it fell into the hands of everyday civilians. The class is then moved into practical training with more advanced models to show that if you can grasp the general concept of a GPS, you can apply the same functions to any system, no matter how complex.
Technology in aircrafts is advancing more and more by the day, and by the time our future pilots learn the systems we can teach them in school a newer model is sure to be released before we can catch up. By teaching the theory and establishing the basics, we are setting up our students to be confident in their GPS when they find themselves in an unfamiliar aircraft at their first job.
Duration: 2 WEEKS