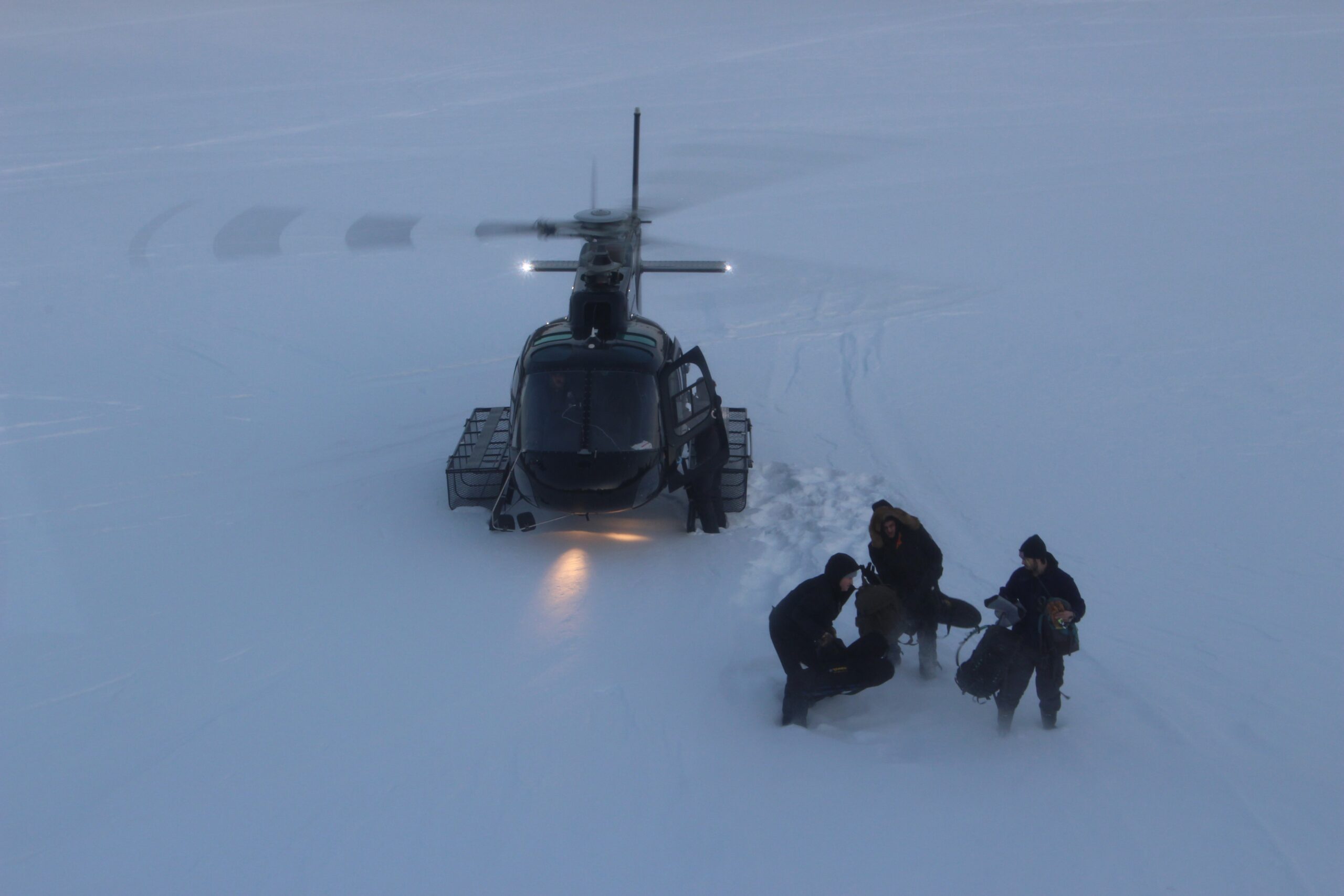 Operational Courses
Designed to fully prepare you for the aviation industry.
Going one step further
If you are looking to enhance your training and expand your career prospects, sign up for one of the many operational courses that we offer. If you have been accepted into the Helicopter Flight Training Programs, partnered with Canadore College, then you are automatically enrolled in the operational courses offered (unless otherwise specified).
Course Overviews
Winter Survival
Helicopters Canada Winter Survival course is designed for students or employees who must face these conditions as part of their everyday job duties. Our week-long training session includes one day of classroom instruction at the Canadore College Aviation Campus and four days out in the wilderness with hands-on practical training. Students will learn essential safety skills such as the recognition, prevention and treatment of frostbite, hypothermia, and other cold weather injuries as well as the skills necessary to quickly locate or improvise effective shelters to survive an unexpected situation.
Our extensive ground school includes the following:
Shelter Building Methods
Fire Lighting and Signal Techniques
Search and Rescue
Map and Compass Navigation
Survival Kit Contents
Trapping and Snaring Techniques
Remote Winter Helicopter Operations
The skills and knowledge gained during this course will help prepare you with the understanding and confidence that you have the will to survive an outdoor emergency situation. If you find yourself in a survival situation, you'll be grateful you know what to do.
Duration: 4 days/3 nights
Delivery: February
Cost: $1,180 + HST
Underwater Egress
Helicopters Canada Underwater Egress Program is designed to provide aircraft crew and passengers travelling over water, the knowledge and skills necessary to react to an aircraft ditching emergency. The course has been designed for workers traveling via aircraft on a regular basis, to provide vital safety information, procedures and potentially life-saving knowledge. Regrettably, many passengers do not survive during a ditching emergency because of a lack of knowledge and practice of emergency Underwater Egress scenarios.
The Underwater Egress Training Program is given in two parts; Theory in a classroom and practice in a pool with a submersible aircraft simulator and sea survival equipment.
Our program content includes the following:
Surface and Underwater Egress Training
Emergency Ditching and Evacuation
Pre-ditching procedures
Survival and Water Rescue Skills
Cold Water Emersion
Hazards related aircraft and personnel operating over water
Safety and survival equipment requirements and utilization
Duration: 1 day
Delivery: March
Cost: $700 + HST
First Aid
Standard First Aid is a practice that pilots should not take for granted when operating in remote areas with risk of injury. Our two-day First Aid course is unlike any basic course offered; students are given scenarios to put their classroom lessons and decision-making skills into practice to develop hands-on solutions.
Day One: Our certified instructor teaches the theory and procedures involved in treating all types of first aid situations. PowerPoints and demonstration videos are discussed as students read along with the workbook, including guidance and references for emergencies that they can keep with them in their aircraft.
Day Two: All the teachings from the previous day are practiced first hand. CPR and AED responses are utilized on dummies, and first aid crisis' are demonstrated on our staff and student "dummies." Students are divided into groups and are given surprise scenarios they must react to in real time to make life-saving decisions using their new first aid training.
Not only is our certified instructor an experienced paramedic, but also a special effects makeup artist with a talent of making fictional scenarios seem frighteningly realistic. These aspects of real-life storytelling and convincing scenarios grasp the attention of our students and make them react as realistically as possible when dealing with a first aid emergency. That is what makes this a First Aid Course unlike any other.
Duration: 2 Days
Delivery: October
Cost: $590 + HST
Chainsaw and Felling
The majority of helicopter operations take place in heavily forested areas where the felling of trees is often required. Therefore, it is often helpful if pilots are familiar in chainsaws and their operation. That is why we have made this Chainsaw Safety and Tree Felling Course part of our Pilot Preparedness Program.
The first day of this two-day course begins in a classroom setting where our experienced instructors review the storage, upkeep, mechanics and safety practices of chainsaws. Students are also familiarized with how to identify tree types and their best usage, properly fell, prune and buck the wood yielded from their cut.
Day two takes place outdoors where students practice the lessons they learned in class. Divided into groups, the students are assigned an instructor who walks them into the bush and are given the opportunity to identify, select, fell, trim and buck their own trees. Then when it comes time, students must utilize the necessary tools to sharpen, file, clean, oil and refuel their chainsaws to keep them serviceable.
This course most accurately represents real experiences helicopter pilots face when working in remote forested areas. These skills help our graduates meet the demands when expected to create helicopter log pads, survival shelters, firewood and so much more.
Duration: 2 Days
Delivery: November
Cost: $590 + HST
Log Pad Construction
The perfect opportunity for helicopter students to marry their chainsaw safety and winter survival training; our Helicopter Log Pad Construction Course is the best way to test the future pilots on their ability to retain knowledge and act quickly under high demand.
At some point throughout their winter survival experience, one of our helicopters pays a visit to the secluded area on short notice and needs a place to land to keep them out of the snow. It is at this point our group of students must work as a team to assemble a safe log pad in a suitably determined landing site.
By selecting sturdy lumber trees, making clean cuts, thoroughly pruning, and bucking into appropriate sizes, this is the perfect culmination of the students' chainsaw training while dealing with the winter environment under high pressure.
All done under the supervision of experienced instructors with the familiar chainsaw equipment and safety gear, the students are not given the chance to lose any of their past training by applying it to a real life scenario with a real life reward. This may be the first time a student builds a helicopter log pad, but after getting a job in the aviation industry it most likely will not be their last!
Duration: 1 Day
Delivery: February
Cost: $590 + HST
Pilot Preparedness Training
$3,650.00 + HST
Student will be invoiced after the completion of each course – payment is due upon receipt
Total tuition fee above includes the delivery costs of all courses listed in this Program Guide. Students may choose to take individual courses only for the timeline and cost of each singular program listed.
Program tuition may be subject to change without notice
Courses included in training delivery are subject to change without notice
Additional textbooks and supplies may be required for courses
Course delivery dates and times may vary from quoted above
If you are unable to meet all the requirements for each course, and/or you need to retake a course, you are financially responsible. The program is very individual – all instructors strive to complete the course within the minimum time allotted for each course's schedule.
Please note: Courses may be rescheduled after a student enrolls with minimal notice