Alumni
Pilot Profile: Blair Platt
From flying with Papa to flying in Paupa (New Guinea!)
Self proclaimed "aviation nerd", Blair's aviation origin story begins as a young kid. Fascinated by the world of flying, Blair surrounded himself with books on military aircraft and watched hours of videos and films. Blair's Grandfather had his private aeroplane licence so they went flying together (lucky!). However, once he found Heli Skiing videos, fixed-wing flying quickly took a back seat. "I'm pretty big into skiing so seeing these things come together was the moment of 'I want to do THIS' for a living."
Helicopter pilot is a second-career choice for Blair as he originally went to school for his Economics degree, but he quickly tired of the sedentary lifestyle of his desk job in Calgary. Blair decided to revisit getting his helicopter licence and dove into the research. Being a North Bay local, he eventually landed on Helicopters Canada (Essential Helicopters at the time) and was intrigued by the additional training options and operational courses that no other flight school he could find offered.
On becoming a helicopter pilot, Blair's biggest challenge was the emergency procedure of autorotations. It was the hardest thing for Blair to "master", other than the obvious and usual answer of hovering for the first time. We asked Blair for his advice on overcoming these challenges:
Autos: Practice Makes Perfect – "It sounds cliché but you have to put in the continuous effort and time, that's the only way to get better. And if things don't go the way you want then don't beat yourself up, just keep doing it… that's the only way to improve. It was true in flight school and it is still that way today, every year when I do my PPC (pilot proficiency check) I remember my training and just get it done, no matter what it takes."
Hovering: Look Up and Look Out – "I remember when I was really struggling during a hover lesson and my instructor just told me 'you have to look up and look out, don't stare at the ground right in front of you, that makes it harder. Instead, pick something in the distance to focus on and you will stabilize.' And of course I tried this and it worked, so I started to apply that thinking to everything. What a great metaphor for flight training, but also in life if you focus on something right in front of you it feels so daunting, but if you look out at the bigger picture things seem more manageable. This is something that I still think about today."
"The college's reputation got me the job" – Blair Platt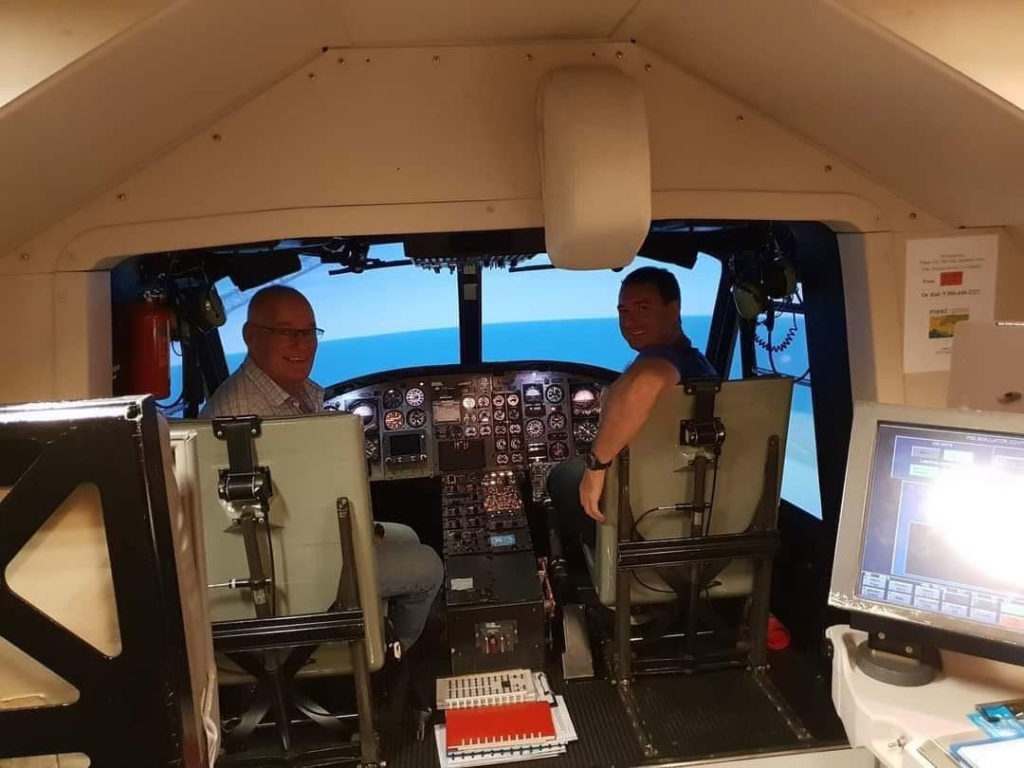 Other than the flight training, which is the same curriculum in Canada no matter what school you go to, the highlight on Helicopters Canada's (formerly Essential Helicopters) Maintenance program was incredibly helpful during the whole course. He appreciated the fact that the instructors ingrained the importance of doing a DI (daily inspection) because he still takes it seriously before every flight.
"The difference between doing [a DI] or not is literally life and death, and I heard that from the instructors and the guys who taught the maintenance courses, so why wouldn't you just do it and do it well?"
Having the affiliation with Canadore was impressive enough to draw him to Helicopters Canada above any other school, but also made a big impact on his employment opportunities. "Having that Canadore certificate was THE reason why I got the job that I did right out of flight school. I was lucky enough to find this opportunity to fly [twin engine helicopters] in Paupa New Guinea and when I got the interview they actually told me that knowing I was a graduate of Canadore was the reason they considered me over the other candidates – the college's reputation got me the job." That job opportunity allowed Blair to broaden his horizon, enjoying the beautiful landscapes, discover different ways of life, meet the Mountain Tribes and develop relationships with his team.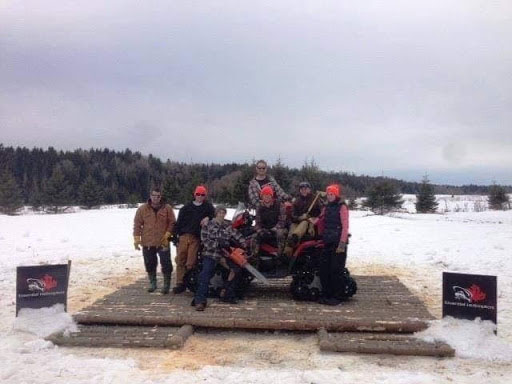 The coolest thing Blair did other than flying? He can't decide whether it was Underwater Egress or Winter Survival. Underwater Egress ended up being a course that he would have to re-take for the job in New Guinea since they were flying a lot of coastal work. But having the experience of doing the training first and knowing what to expect made it a lot easier to do it again. "It is scientifically proven that if someone has the training, their survival rate goes up by 80% or more. With those numbers it's a no brainer that you should do it, and also gives you peace of mind as a pilot."
Winter Survival was a great way to hone his outdoor skills and practice working as a team while having a lot of fun. It was a very cold week for Blair, averaging about -20 to -35 at night, which made for a challenging but rewarding experience knowing that he could survive at least a couple of nights in the bush if he had to make an emergency landing. "I had previous management experience from my other job so I was put in a group where my instructors thought I could help and give guidance. It tested my leadership and was realistic to what I would have to do with passengers in that situation."
One of Blair's most memorable experiences was his first solo long cross country trip as it was the first "moment I knew I could do it" realization, flying around Northern Ontario seeing just how beautiful Ontario really is.
As for advice for students, Blair highly recommends looking for something "extra" in your flight school. "You can get your commercial licence almost anywhere, that's why I chose Helicopters Canada (Essential) and Canadore."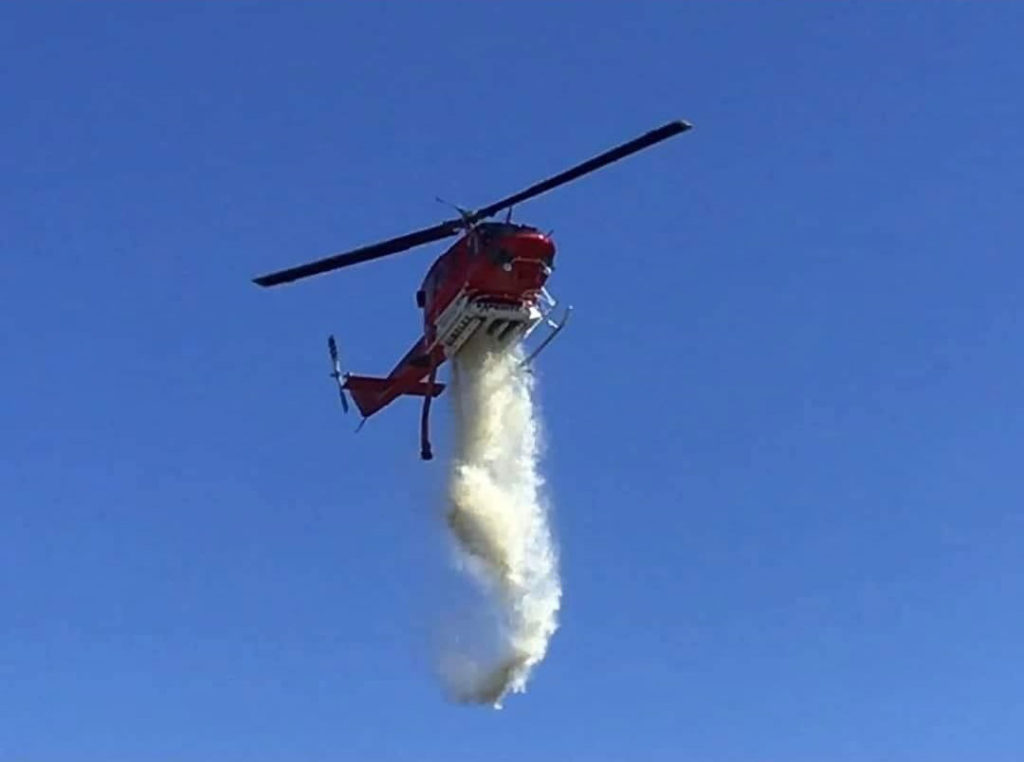 Now you can find Blair working for Expedition Helicopters out of Cochrane, Ontario, all year round. In the summer he flies the Bell 212 to fight forest fires and in the winter flies mostly drill camp support for exploration. He is currently on a 3 week on/3 week off shift – a nice balance for his home life so he is not "spending too much time at home or at work."
Blair aspires to get his IFR (instrument flight rules rating) to fly for air ambulance – this is a licence upgrade he would need to study and train for which is appealing to him because he loves a challenge and likes to switch things up once he gets comfortable with a certain type of flying.
"Flying in New Guinea was such a cool experience, I don't think I could ever top that, so to go back again would be fun, especially knowing what I know now and not being right out of flight school."