What every International Student should know about getting their licence in Canada
Students from all over the world have come to our facility to train and it is clear to see why. With the Canadian Licence being one of the world's most widely recognized, and Canadian flight training standards ranked amongst the highest globally, it is no wonder that students from ​Europe, India, Mexico, Indonesia, Japan, China, Brazil, and Dubai travel here. International Students can learn with experienced flight instructors with solid aviation backgrounds and take advantage of the huge demand for helicopter pilot positions throughout the country.
Training in Canada offers many great opportunities including eligibility for Post Graduate Work Permits and competitive all-inclusive flight training rates. An added bonus? Canada boasts challenging weather with fall and winter operations preparing students for all sorts of work environments. If you are an International Student and unsure if training in Canada is right for you, then you need to read on. Our student coordinator, Mackenzie Wilson, has outlined the steps you can take to get your licence, and answered the questions that she gets asked the most by students looking to get their international licence.   
ADMISSION REQUIREMENTS
The most important thing to get started is to be lawfully admitted to Canada for flight training – please visit Immigration Canada's website for more information on how to apply for a Student Visa. Then proceed with the application to the closest Canadian Embassy representing your native country found here: www.international.gc.ca. You can also find our full admission requirements here.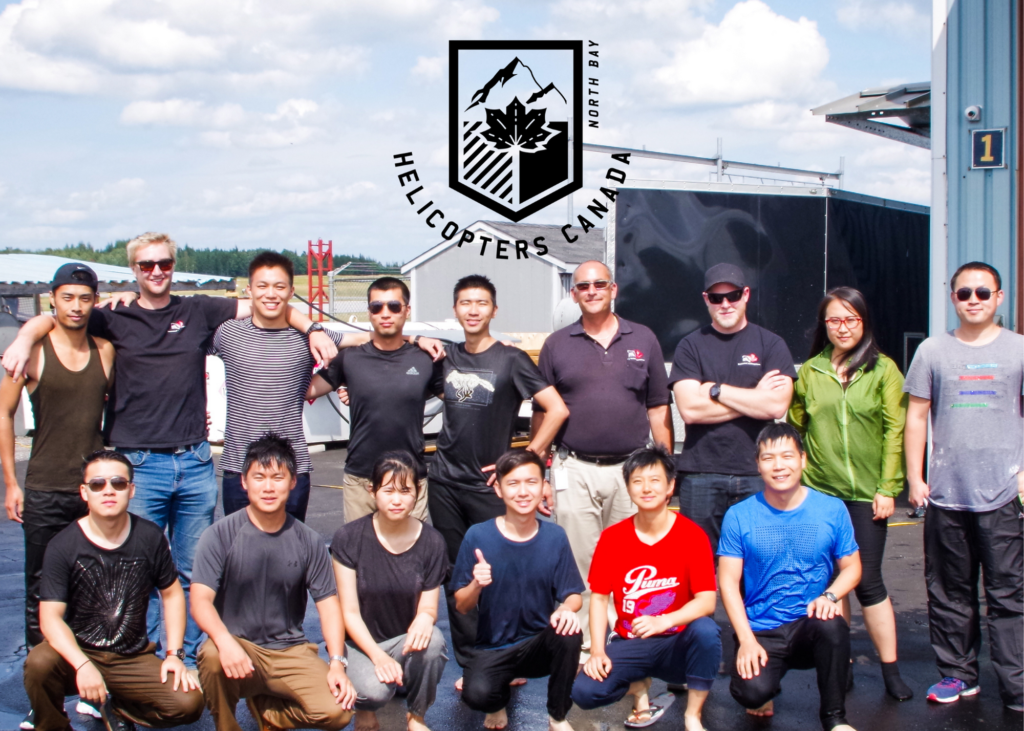 LICENSING REQUIREMENTS
Our website offers a comprehensive guide outlining the requirements needed for you to start your career in aviation. Click the links below to learn more.
Do you want to fly for a career in Canada? You're looking for a Commercial Licence
Do you want to fly for fun in Canada? You're looking for a Private Licence
Do you already hold a Private or Commercial Licence and want to fly in Canada? You're looking for a Canadian Conversion
ACCOMMODATIONS
North Bay offers a variety of affordable, safe and conveniently located housing opportunities for International students. Canadore College Residence is accessible all year round, is close to the Aviation Campus and is on a direct bus route that runs hourly. You can find more information at https://www.canadorecollege.ca/experience/residence. Alternatively, there are many off-campus options through Kijiji and Off Campus Living.
Your Student Coordinator is happy to help arrange accommodations before your arrival, and you are encouraged to utilize the services of the North Bay and District Multicultural Centre at www.nbdmc.ca. Upon your arrival, arrangements will be made for a representative to meet you and bring you to your place of residence.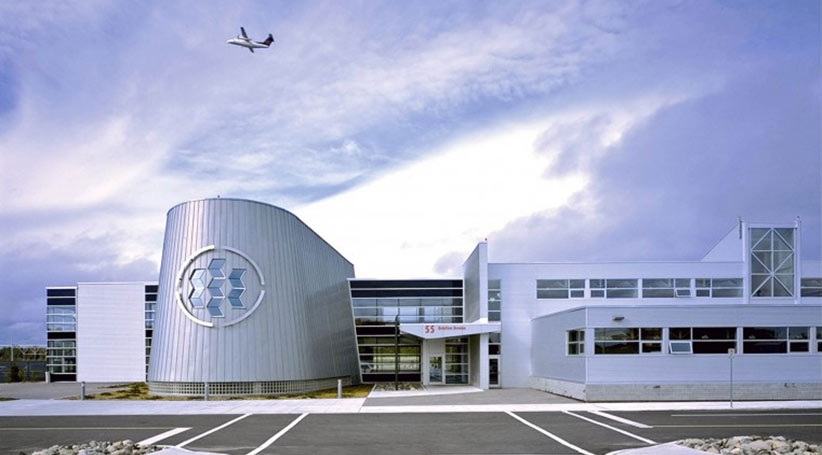 ACADEMIC SUPPORTS
The Helicopters Canada Team works closely with you to ensure you meet all performance criteria of flight training, ground school and operational courses as required. It is our personal and professional goal as flight instructors, ground instructors and maintenance personnel to support our students through the process of your training, helping you achieve your first job in the industry and follow you through your career as a Commercial Helicopter Pilot.
Also, English as a Second Language Courses are available through Canadore College to those that feel there is room for improvement. Please reach out to the Canadore College International Department for more assistance at https://www.canadorecollege.ca/canadore-international
FAQs
Our Student Coordinator, Mackenzie Wilson, is here to help you along every step of the way by answering some frequently asked questions by most of our potential International Students.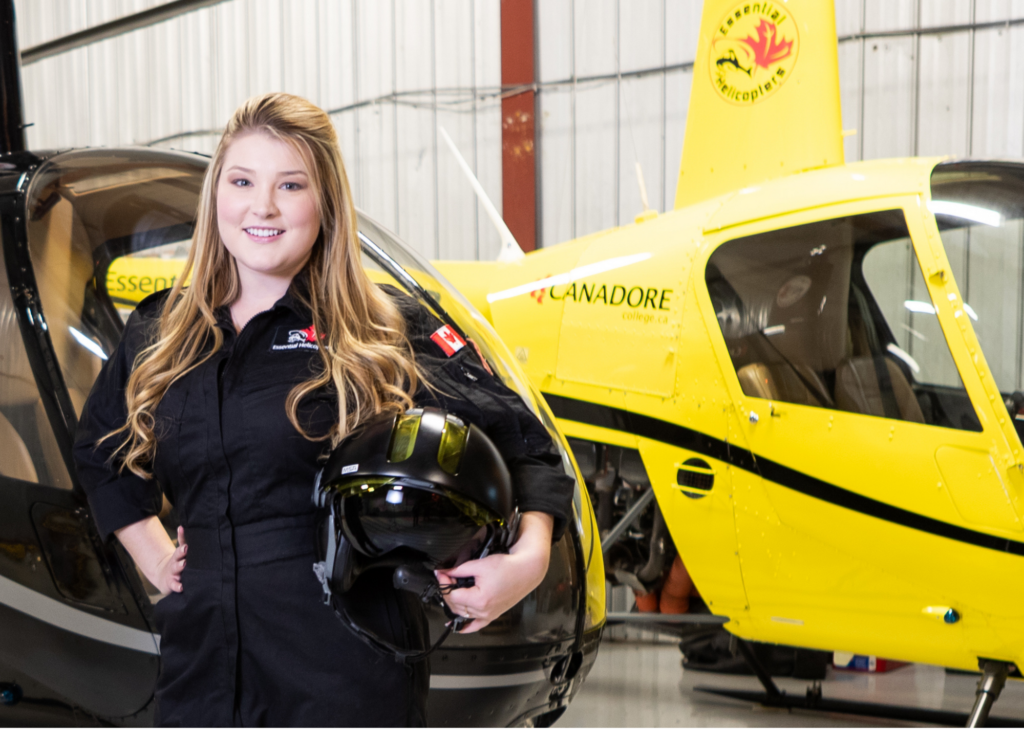 What is the job market like in Canada for International Students getting their Canadian Commercial Licence?
Better than ever! In general, there is a large need for helicopter pilots in Canada so any graduates will be able to find a job in the aviation industry as long as they go searching and use the resources we give you to help you gain employment right out of flight school. There are also many incentives for Canadian companies to hire International Pilots over Domestic Pilots, including but not limited to: value in diversity, benefits from various cultural backgrounds, perks of multilingual employees, connections with International companies, expanded possibility of partnerships within the industry, collaboration opportunities with new clients, etc.
What if I want to go to a different country to fly? What can I and can't I do with my Canadian licence?
If you work for a Canadian company and fly their Canadian registered machines overseas you do not need to change any of your licensing. Only once you work for an International company operating non-Canadian registered machines do you need the appropriate licensing for wherever the flying takes place. Luckily, Canadian Pilots are some of the most skilled in the world so meeting any other International licensing requirements is a simple task, you just need to find someone in that country who can explain the next steps and help you achieve them!
How difficult is it to convert my Canadian licence to one of my home country or another International licence?
Very easy! Since the Canadian Aviation Safety Standards for licensing is so strict it is one of the most highly recognized across the globe, making it a simple process to convert to any other International licence. The biggest factor is finding out what the licensing requirements are for that specific country and what you need to meet them. This way, we can help you prepare for each factor while you are still in Canada so all you need to do is challenge any theoretical/practical exams required for the conversion once you arrive in that country.
What if I have difficulties getting a Visa/Study Permit to complete my flight training?
Good news – the Canadian Embassy allows anyone coming to the country for less than 6 months to be exempt from requiring any sort of Student Visa or Study Permit. So if you are planning on doing shorter spurts of flight training at a time for a Commercial program, or wish to obtain your Private Licence instead which could be completed as quickly as 6 months, then any Visa restrictions are redundant! The only catch is that you will not be eligible to remain in Canada for work following the completion of your training, but if your intention is to take your new licence back to your country to fly then this is your best option!
Do I have to come to Canada first before I start the application process for any flight training programs? Or are there steps I can take while still in my home country to prepare and work towards my licensing before I arrive?
You do NOT have to physically be in Canada before you can apply to our flight training programs, in fact, ALL of the steps you can take to work towards enrollment and licensing can be done from the comfort of your own country. We also offer some online ground lessons, assignments and quizzes to help give you a head start before you arrive for your first day of flight school!
I want to be sure I can get a job after or during my flight training to afford my stay in Canada. What are my options?
As long as you are taking one of our Commercial Licence programs (part time or full time, both are a minimum of 6 months) you can work both during and after your studies! You will be eligible for a Post Graduate Work Permit for the same amount of time as your program; for example, a 6 month program allows you to work in Canada for 6 months and a 12 month program allows you to work in Canada for 12 months. This applies to any paid work in the helicopter industry or otherwise – our team helps to connect you with open positions in Canada to help you get your first flying job after graduation.
Do I need to pay the total tuition of the program in full before I arrive in Canada? In what currency are the costs listed?
The total cost of the tuition for your flight training program of choice is never due all at once or up front. You have two payment schedule options: Private Licence or part-time programs are pay-as-you-go (accumulate charges for the flight hours and ground school used and pay the balance off on a weekly basis) and Commercial Licence or full-time programs are paid in monthly installments (take the total cost of your tuition, divide it by the number of months you plan to complete your training, and pay that value at the beginning of each month.) All of the tuition in our Program Guides is in Canadian Dollars and needs to be paid in the equivalent currency of the most recent exchange rate to the date of the transaction.
Ready to take the next step? Contact us! We would love to talk to you about coming to Canada and starting your career in aviation.