Alumni
Pilot Profile: Jim Harnett
We had the pleasure of interviewing alumni Jim Harnett on his path to becoming a pilot, and his story didn't disappoint. From Hollywood stunts to Model T Fords, this interview burns brighter than nylon boots on fire. Jim kept us captivated with his challenges of becoming a pilot and getting his AME ticket, his proudest moments and some sage advice for navigating the industry.
Why did you decide to become a helicopter pilot?
The reason I decided to become a helicopter pilot is complex. From the time I was young My Dad always had old cars. His favourite is a Model T Ford. Growing up he taught me to fix and drive it by the age of 11 (and at 11 I drove it through the neighbor's hedge much to their dismay.) For the record, driving one of these cars is no simple task, starting one can break your arm, and driving one requires two feet and 3 hands… a bit like a helicopter with no throttle governor! On weekends we'd go to the local conservation area where they held vintage car racing, mostly 1920's and earlier (imagine that, it would never be allowed today.)
This is how I spent a great deal of my childhood, surrounded by complex cars doing things they were never meant to do. When I got to my final year of high school I took a course called Manufacturing in Aviation. It was basically a manufacturing course where we made a scale model airplane mixed with a very elementary ground school. From the first week I knew I wanted to be a pilot, but after applying to college and being accepted into 3 fixed wing programs I did some talking with people at the colleges who basically told me I would never get an airline job with glasses – a rule of the past that is no hold-back today. We only did one single lesson in high school on helicopter flight, but I was sold. My teacher was so fascinated with the mechanics of helicopters and it came through in his lesson. I remember him saying I have no idea how a person can master flying one of these machines, but my hat is off to anyone who can! I took it as a personal challenge.
Why did you make the move from the pilot world to the maintenance world?
I have always played around with old cars, and anything mechanical for that matter. I never thought I would get paid to, but after a few years working as a pilot only really flying in the summer, just cleaning and ground crew duties in the winter, I was bored. I figured the mechanics always seem busy with their work, I should do that! What better way to keep busy, and make myself more valuable to the company.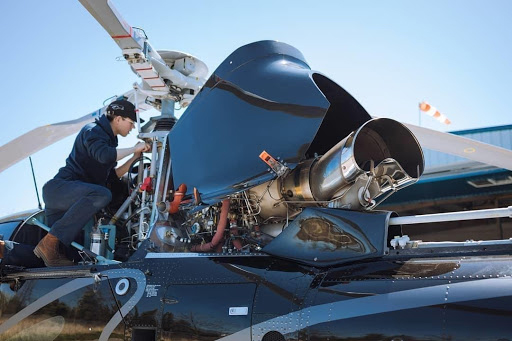 My intention going back to school was to finish and go back out into the industry as a pilot/AME focusing on my maintenance licence first as I already had my pilot's licence, and I don't believe it is possible to learn maintenance while being a good, well rested pilot at the same time.
Coming out of school, however, I was hired by Airbus Helicopters in Fort Erie, Ontario as a Repair and Overhaul Technician. This changed my plans slightly, I ended up diving farther into maintenance than I thought I ever would. While I enjoyed my time there immensely, I could never shake the desire to fly. This led me to the decision to make the move to EuroTec Canada. An executive helicopter completion center located in Millgrove, Ontario, just North West of Burlington, Ontario. Working at EuroTec I have the opportunity as an AME to learn the AS350 inside out as well as fly on the odd occasion as well.
What were some of the biggest challenges of becoming a helicopter pilot versus your AME ticket?
For me the biggest challenge becoming a helicopter pilot was finding self-discipline. Waking up, going to bed at appropriate times and eating right. All while studying the material and putting it effectively to use. Getting my AME ticket was completely different, it required more reading than I've ever done at a pace I'd never seen before. In flight school, generally speaking, the subjects are covered until the class as a whole are comfortable with the content. In maintenance you have to get it and be able to repeat it and move on in a couple weeks or be left in the dust.
The biggest difference between the two worlds once you're out in the industry is as a pilot you are expected to memorize a great deal of information whereas AMEs are expected to be resourceful and know how to find the information versus memorize it.
What are some memories about your experience at Essential Helicopters/Canadore College?
It was the experience of a lifetime! The best memories were from the extra courses Essential Helicopters put on. Winter survival, chainsaw felling techniques, underwater egress, first aid, Rolls-Royce Allison 250 Pilot familiarization, and Bell 206 Airframe courses. It gave the class an opportunity to bond while seeing what some of what we might see in the field was like. It also gave us exposure to some of the people we might meet out in the industry.
One of my favourite memories was on winter survival. We'd sat down around the fire after a long day of chopping wood and boiling water and Carly, one of my 2 other group members, put all our boots around the fire to dry off. After a couple minutes my boots specifically were putting off an unusual amount of steam… it was nylon… it had melted. The next day one of the flight instructors was kind enough to bring some duct tape out so I could repair them.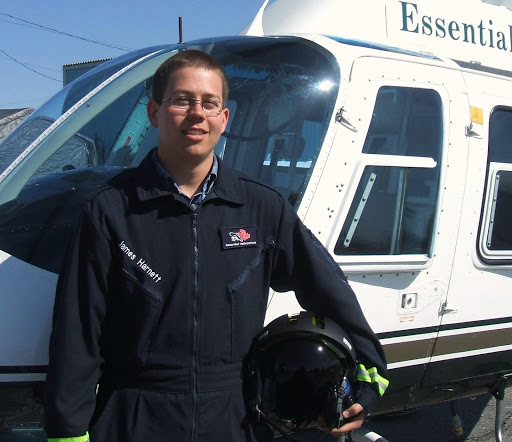 My top memory has to be going solo, though! I still remember the look on Chuck's face when he called the tower and told them he was getting out. It has to be one of the best feelings a person can have. The immediate confidence it gives you followed by the nerves of not screwing it up.
What advice would you give to a student looking to explore a career in aviation?
If you're looking to get into aviation, it's all about networking. Any career fair, trade show, air show – go talk to people. It's a small business, people remember you everywhere you go; don't burn any bridges no matter how far along in your career you are. It will come back to you!
When I left flight school in 2011 the helicopter industry was shrinking. It took me 9 months to get my first job at Niagara Helicopters as a ground crew. I spent the previous 9 months in Kamloops working as a landscaper for the owner of Heli Dynamics in the Yukon. He was kind enough to direct me to multiple companies in B.C. where I was not hired at the time but I became well acquainted with the owners, chief pilots, and ops managers. I have never made it back to B.C., however, I have talked to these same people almost a decade later and they remember me.
Tell me about your current employer. What do you love most about your job?
I currently work for EuroTec Canada. We are an executive helicopter completion center. We do predominantly completions, where we tear down and rebuild aircraft based on customer needs. We also do heavy maintenance such as 12 year inspections, STC installations, and custom avionics installations.
My favourite part of my job is the aircraft I get to fly. I have never and will never fly nicer, more elegant aircraft anywhere. Our team at EuroTec is second to none as well. I have never worked with people I trust more than our team at EuroTec!
Do you have any stories, from out in the field, that are some of your most memorable? Any proudest moments thus far?
My favorite memory bar-none from the field was being told after only 6 months as ground crew that I would be flying one of our company's Bell 407s with the Chief Pilot to Sault Ste Marie for the filming of several stunt scenes in the Trailer Park Boys new movie Swear Net. Once on the ground in The Sault, I got to meet the whole cast and crew. Filing the flight plan to return was fun too, I had to file it from my cell phone while on set. The set was a closed runway with a Porsche 911 doing about 80 km/h down the runway with the helicopter long lining a stunt man over it. London Flight Services was a bit confused why I was outside of the Helicopter and not indoors.
Otherwise, another memorable moment was the first time I was told to ground run a helicopter after my Maintenance Training at Canadore. It had been about 3 years since I had flown. It was an EC130 B4 we had completed at EuroTec. A gorgeous machine down to the last detail, worth millions. I was simply told "you're going to run it up, we need to make sure it's snag free before delivery." It is a great feeling knowing the confidence someone has in you to trust you with a machine worth so much.
Do you have any recommendations of social media pages/influencers to follow, memorable YouTube videos, movies, books, article mentions?
When I graduated our only resource was the Vertical Magazine Operator's Directory, still a great resource. I literally drove from Ontario to B.C. stopping at any hangar that was nearby to put myself out there for a job. I just walked in and introduced myself, and more often than not whomever I met gave me some advice and attempted to point me in the right direction. When I finally got hired at Niagara Helicopters, I dropped off a resume at reception, but pushed to talk to someone about a job. In an attempt to satisfy me they sent a pilot down to talk to me. After talking for a bit he took a shine to me and gave me the grand tour. After a couple phone calls over the following months I was hired!
Today the Vertical Online forums are a good resource. AvCanada can be as well if you're looking for a job. As for social media, Facebook groups specific to helicopter types such as the Eurocopter AS350, AS355, EC130 groups are useful to learn all about the unique problems you might encounter. The Helicopter Pilot Network is another good one for pilots.
As for books, read Chickenhawk by Robert Mason. It's a must!
Any extra stories that come to mind you would like to share? Any shout-outs?
Just remember, take everything you see online with a grain of salt. Just because some 5,000 hour pilot said it online or a veteran AME doesn't make it the be all end all. You don't know these people personally, aviation is all about trust. Trust the people you know first, such as your flight instructors. When I went through flight school our only internet access was on-campus and I passed flight school and still got a job.